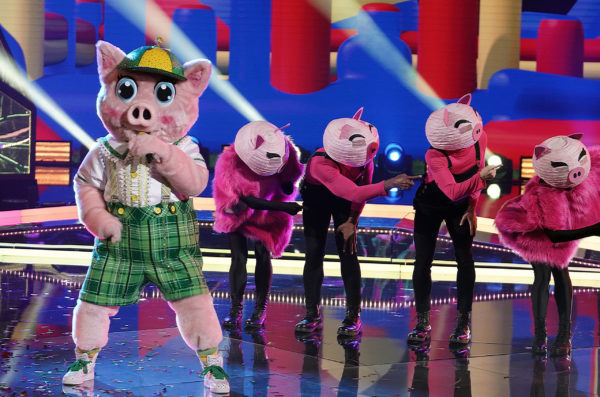 Read Time:
4 Minute, 19 Second
The Masked Singer Recap for The Plot Chickens
Tonight is Super Eight Night on Fox's The Masked Singer! We have two hours of performances with a double elimination at the end of the night.
Nick Cannon hosts, while Rita Wilson joins Jenny McCarthy, Dr. Ken Jeong, Nicole Scherzinger and Robin Thicke at the judges' table.
Piglet:
Clues:  broken finger, being in a dark place, moving in with his parents, getting a sign from God, life not always being smooth sailing.
Song: The Pretender by Foo Fighters. He puts on an incredible performance with lots of fun and energy. It is a wonderful way to begin the show and I think he has a great chance of staying in the competition.
Men in Black Food Clue: Cotton candy, which reminds him of his first job.
Guesses: Lance Bass, Chris Pine, Adam Levine, one of the Peyton brothers
Robopine:
Clues: struggling with depression, no confidence to chase his dreams, his neighbor giving him a chance to sing, no family support.
Song: Let's Get It On by Marvin Gayes. His voice is very smooth and ballady…it almost has a calming and peaceful vibe to it, I cannot explain it, but listening to him makes me feel like I am at peace.
Men in Black Food Clue: Lobster, which reminds him of sea diving with his family.
Guesses: Terry Crews, Jamie Foxx, Aaron Hall
Chameleon:
Clues: Walking to the beat of his own drum, meeting his GOAT, championship, #2, teamwork, disco ball, deer.
Song: Regulate by Warren G and Nate Dogg. He can rap and dance like nobody's business and I agree with everyone that he has swag. There is something so endearing about him, however, I have no clue who he could be….the clues
Men in Black Food Clue: Military meal, representing his military support.
Clues: Kyrie Irving, Machine Gun Kelly, G-eazy, Wacka Flaoka Flame, Charlie Puth.
Clue-de-doodle-do….Golden Globe nominee or winner.
Yeti:
Clues: Once upon a time, burying feeling of failure, a second chance, owning the fact that his ego got in the way, New Years, turning life around
Song: Lonely by Justin Bieber and Benny Blanco. The skating makes me wonder if it is an Olympic skater, so maybe it is Johnny Weir or Apolo Ohno? The voice is so gorgeous and completely life changing…..I was in awe and speechless from start to finish.
Men in Black Food Clue: Donuts
Guesses: Sisqo, Omarion, Todrick Hall, Mario, Justin Timberlake.
Russian Dolls:
Clues: People giving up on them, no longer famous, booking a prestigious gig, starting over, a fourth doll, circles, Indiana, Milwaukee.
Song: 24K Magic by Bruno Mars. I keep thinking it is a 90s boy band who made a comeback. The only ones who really come to mind are Hanson and O-Town, who went on tour again after Lines and Circles came out. The circle clue made me think it could be the latter.
The voices also remind me of O-Town's early stuff, so now I am thinking of them?
Men in Black Food Clue: Red jelly beans
Guesses: Hanson, Boyz II Men, Jonas Brothers
Crab:
Clues: Talent shows, being initially scared to perform, claustrophobic, stage fright, busted, New York
Song: In The Air Tonight by Phil Collins. This is a very hard song to sing and somehow, he pulled it off. I am still going with Kelsey Grammer based on previous clues, his experience on Broadway and the fact that he seems older.
Men in Black Food Clue: Marshmallows, representing his kids and their love for s'mores.
Guesses: Bobby Brown, Flava Flav, Keith Sweat, Ray Parker Jr.
Seashell:
Clues: Infomercial, opening up, natural disaster, weather, Christmas, anxiety.
Song: I Think We're Alone Now by Tiffany: This is the energy we needed tonight. Everyone has been fantastic, but we need some fun excitement. Based on tonight's clues, I think it might be GMA's Ginger Zee. She talks about anxiety in her book Natural Disaster and she has the sense of humor to so something like this.
Men in Black Food Clue: STOLEN BY CLUE-DE-DOODLE-DO! Seashell knows how to cook good fried chicken.
Guesses: Sarah Silverman, Scout Willis, one of the Mowry sisters.
Bonus clue: Grapes
Black Swan:
Clues: Growing up with a single mom who taught her about music, buying her a home, Cinderella
Song:Use  Somebody by King of Leon: WOW…..that was breathtaking and mesmerizing. I literally have no other words. WOW. I think based on the Cinderella clues it may be Brandy, but the single mom clue is throwing me off.
Men in Black Food Clue: Goldfish, which represents  her favorite childhood snack.
Guesses: Kesha,  JoJo and Demi Lovato.
He pays tribute to his children Bobbi Kristina and Bobby Jr. Before saying goodbye.
SEASHELL is the second one leaving tonight. She removes her mask and it is none other than Tamera Mowry Housley.
She shares how much she loved being on the show before saying goodbye.
More in two weeks, stay tuned!