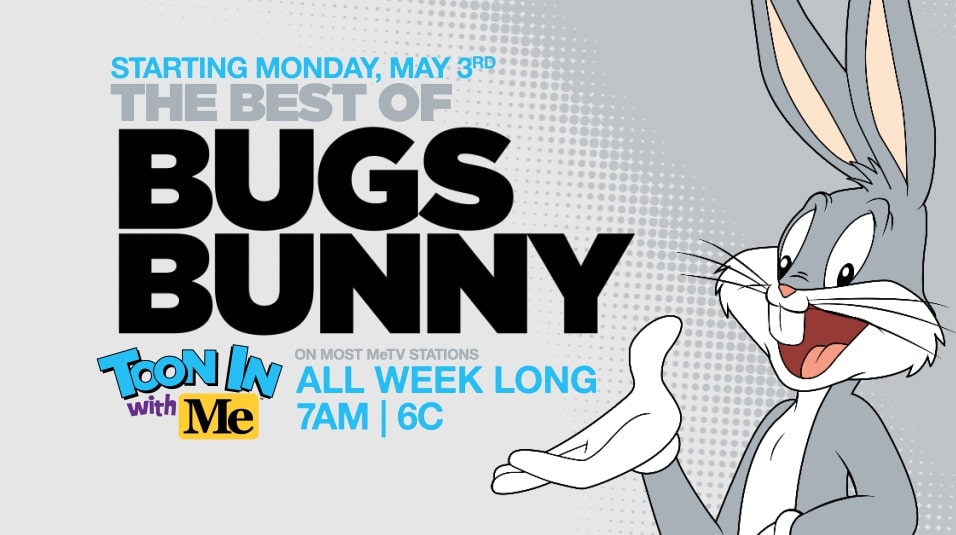 Read Time:
3 Minute, 16 Second
MeTV to Honor Bugs Bunny
The MeTV Network's new morning show Toon In With Me celebrates America's favorite "Wascally Wabbit" with "The Best of Bugs Bunny Week." Airing Monday, May 3rd thru Friday, May 7th at 7am ET/PT, hop aboard as Bill the Cartoon Curator, Toony the Tuna and the rest of the Toon In With Me gang present special daily themed collections of Bugs' greatest cartoons, along with fascinating stories and insights from cartoon historians and Bugs' experts, all leading up to the #1 Viewers' Choice as selected by fans on MeTV.com.
Beginning on Monday, May 3rd at 7am ET/PT, Toon In With Me kicks off the week with "Rabbit Tracks," a themed collection of shorts that showcase the early, rarely seen prototypes of Bugs Bunny and trace his evolution into the iconic character we know and love today.
Created in the late 1930s by Warner Bros. Cartoons Inc. and brought to life by prolific voice actor Mel Blanc, Bugs Bunny went through several evolutions before making his first official appearance in 1940 in the Oscar nominated animated short "A Wild Hare," directed by Tex Avery. Bugs immediately delighted viewers with his glib, city slicker persona and iconic catchphrase "What's Up Doc?" He grew into a cultural icon, appearing in over 160 cartoon shorts, feature films, television series, comics, video games, commercials and more. Bugs is one of few cartoon characters to have his own star on the Hollywood Walk of Fame, having appeared in more films than any other cartoon character.
In this unique fan event, the Toon In With Me cast will take viewers behind the scenes with interviews and insight from cartoon historians and special guests including voice actor Jeff Bergman who voiced Bugs Bunny, Daffy Duck, Sylvester and Tweety in the years following Blanc's death; voice actor Billy West who voiced Bugs in the 1996 hit film Space Jam; cartoon historian Jerry Beck; Ruth Clampett, the daughter of longtime Looney Tunes director Bob Clampett; and Bob McKimson, the son of Looney Tunes director and animator Robert McKimson.
Other daily themes throughout the week include: "Of Course You Realize This Means War," featuring classic battles between Bugs and his greatest adversaries; "Ballad for A Bunny," a selection of Bugs' greatest musically-themed cartoons; and "Hollywood Hare," a collection of shorts featuring Bugs rubbing elbows with Hollywood royalty. On Friday, May 7th, the celebration culminates with a presentation of Bugs' most beloved cartoons including the #1 Viewers' Choice pick as selected by fans on MeTV.com. Voting begins on Saturday, April 3rd.
"The Best of Bugs Bunny" on Toon In With Me
Monday, May 3rd – "Rabbit Tracks" at 7am ET/PT
"Porky's Hare Hunt" (1938), "Prest-O Change-O" (1939), "Hare-Um Scare-Um" (1939), "Elmer's Candid Camera" (1940), and "Wild Hare" (1940).
Tuesday, May 4th – "Of Course You Realize This Means War" at 7am ET/PT "Duck! Rabbit! Duck!" (1953) featuring Daffy Duck, "Wabbit Trouble" (1941) with Elmer Fudd, "Devil May Hare" (1954) featuring the debut of the Tasmanian Devil and Tasmanian She-Devil, "Wild and Woolly Hare" (1949) featuring Yosemite Sam and "Hare-Way to the Stars" (1958) featuring Marvin the Martian.
Wednesday, May 5th – "Ballads for Bunny" at 7am ET/PT
"Rhapsody Rabbit" (1946), "Long-Haired Hare" (1949), "The Rabbit of Seville" (1950), "Baton Bunny" (1959) and "What's Opera, Doc?" (1957).
Thursday, May 6th – "Hollywood Hare" at 7am ET/PT
"Slick Hare" (1947) featuring Humphrey Bogart, "What's Cookin', Doc?" (1944) featuring James Cagney, "A Hare Grows In Manhattan" (1947), "What's Up, Doc?" (1950) and "A Star Is Bored" (1956).
Friday, May 7th – "Wascally Winners" at 7am ET/PT
"Little Red Riding Rabbit" (1944), "Baseball Bugs" (1946), "Hillbilly Hare" (1950), "Bully for Bugs" (1953) and the #1 Viewers' Choice pick as selected by fans on MeTV.com.