The Masked Singer Recap For Rule of Claw
Read Time:
3 Minute, 1 Second
Tonight's episode of Fox's The Masked Singer introduces Group B's Wildcard Contestant. Niecy Nash continues her role as guest host, while Jenny McCarthy, Dr. Ken Jeong, Robin Thicke and Nicole Scherzinger sit at the judges' table.
The Men in Black clue tonight is first celebrity crush.
GRANDPA MONSTER:
Clues: A Santa hat, headphones, a sports car and wild creatures.
 He sings Bad Reputation from Joan Jett. He begins by ripping up a picture of Piglet, so maybe he is somehow connected to the Piglet on this show? A rival in the business perhaps?
It was a fun, exciting performance and a great way to open the show. The judges tell him that if he keeps it up, he could go all the way.
First Celeb Crush: The Rock
Guesses: Jake Paul, Kevin Hart and Jack Black.
PIGLET:
Clues: Football, horse, four days notice and competitive.
He sings Good to be Alive by Andy Grammer and is quite entertaining. The football clue makes me wonder if it is actually a football player, but the voice reminds me of Nick Lachey. Did he play football in his pre-98 Degrees days? His stage presence reminds me of someone who is comfortable for the stage, so I am leaning toward someone in the pop industry.
First Celeb Crush: Meg Ryan
Guesses: JC Chasez, Austin Mahone and Jonathan Knight.
BLACK SWAN:
Clues: Letting someone go, penny and a nickel, birds of a feather, scales of justice, thank you letter and someone giving them wings.
She sings In My Blood by Shawn Mendes. Her voice is beautiful and soulful and those high notes are also something else so it HAS to be someone who sings. The letting go clue makes me think of Jessica Simpson, since she cut ties with her father as a manager a few years ago.
First Celeb Crush: D'Angelo
Guesses: Demi Lovato, Lindsay Lohan and Ashlee Simpson.
CHAMELEON:
Clues: Embracing uniqueness, cheese plate, tailor tape,  peaches, cab, someone being close to him dying and showing true colors.
He sings 21 Questions by 50 Cent and Nate Dog. Singing is definitely not his forte, but he does have good stage presence. Niecy quips that they may have dated back in the day, so she knows who he is….but won't say anything.
First Celeb Crush: Salma Hayek.
Guesses: Iman Shumpert, 2 Chainz and Dwayne Wade.
WILDCARD CRAB:
Clues: Fish, people wanting to be like him, tragedy, broken mirror, bandages, family love and Mona Lisa.
Crab sings Ain't No Sunshine by Bill Withers. His voice is very peaceful and moving. I am not sure if he is a stage performer, but he has some kind of presence. The tragedy clues make me think it could be Kanye West or Kelsey Grammer, but the other ones are throwing me off. The judges think this is what they needed on the show.
First Celeb Crush: Ms. Jackson
Guesses: Bobby Brown, Johnny Gil and Lenny Kravitz.
The singer that is eliminated tonight is……GRANDPA MONSTER!!
Final Guesses: Johnny Menziel, The Miz, Kevin Hart and Jake Paul.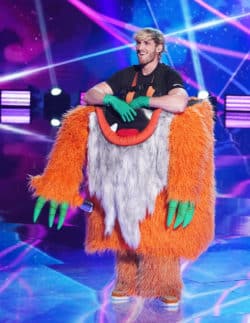 LOGAN PAUL IS GRANDPA MONSTER!! He jokes that he is NOT JAKE and says he is sad to go home. Everyone says goodbye as the show comes to an end.
More next week, stay tuned.