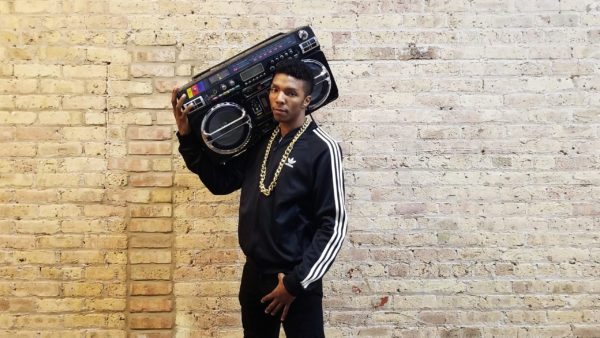 Read Time:
6 Minute, 42 Second
Tell me about "Change Gone Come"
My new EP "Change Gone Come" tells stories of the black experience and current events of 2020. This EP aims to engage the social consciousness of America. While listening to the EP, listeners should be able to feel the connection of the Civil Rights Movement of the 60's to the Black Lives Matter Movement of today. Even though 2020 has been a rough year, I want listeners to vibe with the message of hope that is in music. This EP is full of Black pride and celebrates my blackness, black art, and black heritage. I think it is my best project to date and I feel like it is a classic. The feedback I have been getting about my new EP has been positive all-around. In short, it's FIRE!
-Tell me a bit about how your career began.
Hip Hop has been a part of my life since I was young and I have always been into rapping and dancing. In high school I joined an organization called The University of Hip Hop and began to learn about the 5 elements of the Hip Hop culture and I was instantly hooked. That is when I fell in love with Hip Hop. I began rapping in my high school talent shows, I became Vice-President of the Poetry Club and began hosting open mics and performing weekly.
In college I had a break out moment. I formed a rap duo with a partner at EIU and we opened for Ciara. We were in rotation on local college radio stations, our cd was in the local music stores and we were playing gigs at the local clubs. As our senior year was coming to an end, we were offered a record deal by an independent label here in Chicago.
As you can imagine, we were excited to get signed before we had even graduated college. It was a dream come true! Unfortunately, that dream ended quickly because 3 months after we were signed, the label heads dismantled the label citing creative differences. However, I did not let these events keep me down and I learned a valuable lesson. I would no longer rely on others to make my career happen, I would continue to record, perform and release music as an unsigned independent artist and I have been researching, learning and applying what I have learned to be successful in today's music business.
-What are some of your proudest accomplishments so far?
Honestly, finishing this EP and releasing it gave me a huge sense of pride. I am really proud of this collection of songs and the amount of work I put into every beat, every lyric and every mix. I produced all 5 songs of the EP. But, if I have to pick one moment up to this point in time that makes me the proudest, I pick starting my own publishing company so I can self publish my music. I did a bunch of research on publishing and sync and went for it. It is a huge investment in myself and my music and I am happy I took those steps to own my publishing.
-Who influences you as a writer/artist?
My biggest influences from the hip hop scene are Common, Lupe, J. Cole, Pharrell, Lauryn Hill, Missy, Lecrae, and LL Cool J. Each of these artists have touched me, inspired me, influenced me and spoke to me in a special way throughout the years. I am also heavily influenced by the teachings and writings of Dr. Martin Luther King, Jr., Malcolm X, Marcus Garvey, and James Balwin. Their influence can be heard in my music especially in my latest project, "Change Gone Come". Michael Jackson has always been the most influential on my work, my work ethic, my desire to help others and to be of service. Fromthat comes my passion to fill the world with love. As a child, he influenced my drive to sing and dance, as an adult he influenced me to use my voice, my talent, my writing and my music to touch people in a positive way, uplift people, speak out against injustice and be a voice for change.
-Who are some people/companies you want to collaborate with?
I would love to collaborate with other amazing artists from Chicago like Common. Common is my favorite rapper and It would be fresh to make some dope music with him. I am one of the fine arts instructors for his non-for profit, the Common Ground Foundation so next time he is home maybe I can convince him to collaborate. I would love to get down with Lupe, Jamila Woods, Add-2, and Peter Cottontale. It would also be a dream come true to collaborate with LL Cool J, J. Cole, Missy, Pharrell or Lecrae. If you ever interview them or can get in touch with them, let me know! haha 🙂
-What's next for you? anything new and exciting in the works?
I am gearing up to shoot a music video for my new single "I'm So Black". I am excited for this video because it is the first time I will be collaborating with my long time friend Terrence Morris, Jr for a music video. He is a member of Movement Revolution Dance Crew, a street dance/Hip Hop crew that I started in 2010. He has choreographed a fresh dance to go along with the song and I look forward to creating the visuals for the video. This will be the second time my crew members will be featured in one of my music videos.
The first time the crew backed me up was for my music video "Rock Steady" that paid tribute to Aretha Franklin and my grandmother. My grandmother was a great singer and sounded just like Aretha. They passed within one week of each other and the video was an amazing tribute to them with great visuals of us break dancing to the classic Aretha Franklin 'Rock Steady" breakbeat. My goal with this new music video is to out do what I did for "Rock Steady". I am always on a quest to grow, improve and level up!
-Tell me a surprising, fun fact about yourself.
A fun fact, let's see…I grew up on the south side of Chicago which most people that know me or have heard of me know, but the surprising part of this fun fact is that I was born in Mississippi and lived in Alaska for about one year as a toddler before my mom moved to Chicago with me and my older brother. I can also sew for scratch. I can make a clothing partner, cut the fabric and sew it to complete an outfit.  
-What are you watching on TV these days?
My partner and I have an October tradition that we started last year. Every October we do 31 days of Hallowen and we watch a scary movie or scary TV show. It is fun, we love the horror/thriller genre.
-Where can people learn more about you?
If people want to know more about me, they can visit my website. My website is fresh and it would bring me joy if everyone checked it! www.emceemonte.com 
Also, follow me on all social media platforms by searching
@emceemonte.
-Anything else you want to tell America?
America, it is so important to support local artists and independent artists. If you are reading this and are going to listen to my music, click on my website or follow me or social media, you are supporting me and it means a lot and I appreciate you so much! Your support keeps me going. I hope you enjoy my music, my videos and I hope it all brings you joy. I hope it inspires you, motivates you and fills up your soul. No matter what you are going through this year, know that we will make it through together. Keep your heads up and stay strong. Peace!