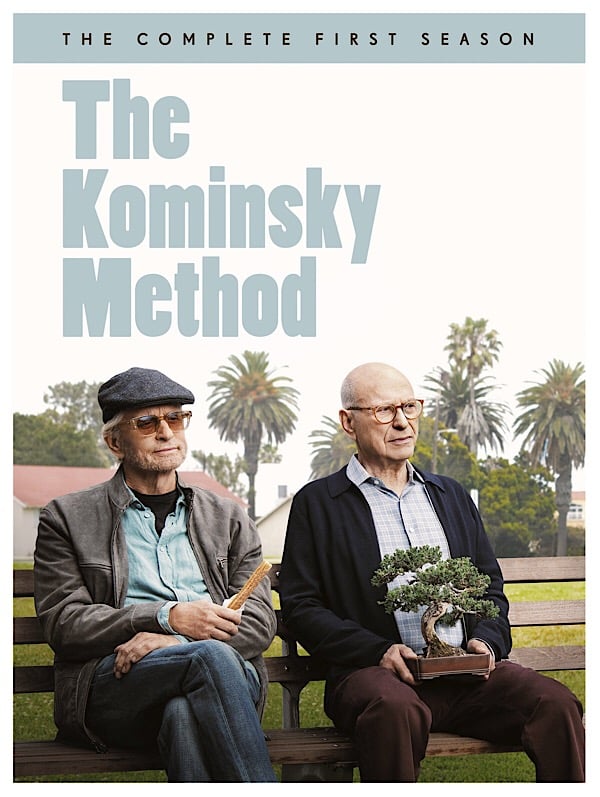 Read Time:
2 Minute, 27 Second
Warner Bros. Home Entertainment brings the premiere season of the Golden Globe® award-winning Netflix comedy The Kominsky Method to DVD, November 19, 2019. Starring Academy® Award-winning actors* Michael Douglas (Avengers: Endgame, Wall Street, Behind the Candelabra) and Alan Arkin (Argo, Get Shorty), The Kominsky Method centers on the life of acting coach Sandy Kominsky (Douglas) and his long-time agent and best friend Norman Newlander (Arkin), as they deal with the ups and downs of growing older while living in youth-obsessed Los Angeles. Created and executive produced by Chuck Lorre (The Big Bang Theory, Mom), the series also stars Nancy Travis (Last Man Standing), Sarah Baker (Bob's Burgers, Young Sheldon) and Lisa Edelstein (House).  The Kominsky Method: The Complete First Season features all eight episodes from the series debut season and retails for $19.98 SRP ($24.99 in Canada). The first season of The Kominsky Method will also be available to own November 18, 2019 on Digital via purchase from digital retailers.
The Kominsky Method: The Complete First Season will be available on Blu-rayTM courtesy of Warner Archive Collection. The Blu-rayTM release includes all 8 episodes on the DVD and is also arriving November 19, 2019. Warner Archive Blu-ray releases are found at wb.com/warnerarchive and your favorite online retailer. Sandy Kominsky's life didn't turn out the way he'd planned.  His dream of having a successful acting career was slowly and inexorably replaced with the reality of being a mere acting coach.  As played by Michael Douglas, Sandy is now dealing with the even harsher reality of being an old man in a youth-obsessed culture.  Clinging to his best friend and long-time agent Norman Newlander (Alan Arkin), the two men are forced to confront loneliness, health issues, the loss of loved ones, financial calamity, grown-up children with grown-up problems, and estrangement from a world that is undergoing constant and rapid change.  The Kominsky Method shifts quickly from laughter to tears, and back again to laughter.   It is a story of friendship.  A story of life.
"The Kominsky Method is a smart, engaging comedy with a strong ensemble cast, outstanding acting and brilliant writing," said Rosemary Markson, WBHE Senior Vice President, TV Marketing. She added, "Michael Douglas and Alan Arkin make a fantastic team. The chemistry the two share, makes this series a delight to watch. If you're a fan of great television, this is a series you don't want to miss."
The first season of The Kominsky Method is written by Chuck Lorre, Al Higgins (Mike & Molly), and David Javerbaum (The Late, Late Show with James Corden).  The Kominsky Method is produced by Chuck Lorre Productions, Inc. in association with Warner Bros. Television. The series has been renewed for a second season on Netflix and has new cast additions including Jane Seymour, Kathleen Turner and Paul Reiser.