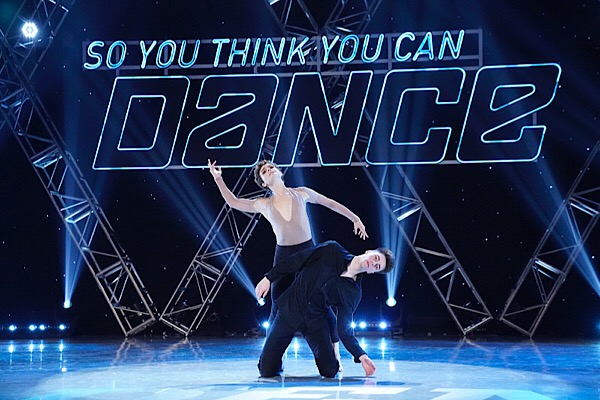 Read Time:
2 Minute, 46 Second
We are about to learn the top five guys who will compete in the live shows on Fox's So You Think You Can Dance. There are ten guys left and they are about to dance for their lives. 
Laurieann Gibson, Mary Murphy, Nigel Lythgoe and Dominic Sandoval are judging, Cat Deely is hosting.
First up is Bailey. He is paired with Lauren and does a contemporary routine choreographed by Jaci. It is a beautiful routine that had me mesmerized from start to finish.  It is especially wonderful too see him do something other than a b-boy routine. Thee judges are blown away and left speechless by him. 
Next we have Ezra and Comfort doing a Luther-choreographed hip hop routine. Again, I am pleasantly surprised by the routine. I wasn't expecting much, but it was one of my favorite hip hop routines I have seen in awhile. The judges also love it!
The third guy to dance is Vlad, who is paired with Melanie. They do a contemporary routine choreographed by Mandy. It is a pretty routine, but it doesn't really stand out for me. The judges seem to like it, but think there is a lack of a connection between the pair.
Next up is Aleksander and Lindsay, who do a cha cha cha choreographed by Sharna. It seemed a bit frantic, but I think he was just nervous. The judges seem split on it—Dominic and Laurieann liked it, while Mary and Nigel think he needs some work.
The fifth guy to dance is Benjamin, who is with Koine. Oksana choreographs their salsa routine. It is by far my favorite routine of the evening. The judges also enjoy it, but also give him places to improve. 
Up next is Clocks and Jasmine, who do a jazz routine Spencer choreographed. It was…..ok. I feel like he got lost in the dance and it was mostly Jasmine shining. The judges admit they expected more.
The next guy to dance is Brandon, who is with Lindsay. I miss what the dance is supposed to be and who is choreographing, but I have to say this dance is not his forte. I was definitely expecting more from him in this stage of the competition. The judges give him places to improve, but think he has potential. 
Nathan and Melanie do a beautiful contemporary routine choreographed by Talia. It is one of the best contemporaries of the night and leaves me speechless. The judges also think it was wonderful and are amazed by how well he did. 
Gino and Lauren do a jazz routine choreographed by Talia. Their chemistry is on point and the artistry is out of this world. This is not only his best routine, but the best of the night. The judges agree and think they see an artist emerging and coming to life.
The final routine of the night is done by Eddie and Comfort. It is a hip hop rounding choreographed by Randi and Hef. It is not only his best routine, but a great way to end the night. The judge also think so and love how he is growing as a dancer. 
Now for the top five, who will dance next week in the live shows!
Ezra
Gino
Benjamin
Eddie 
Bailey
More next week, stay tuned.