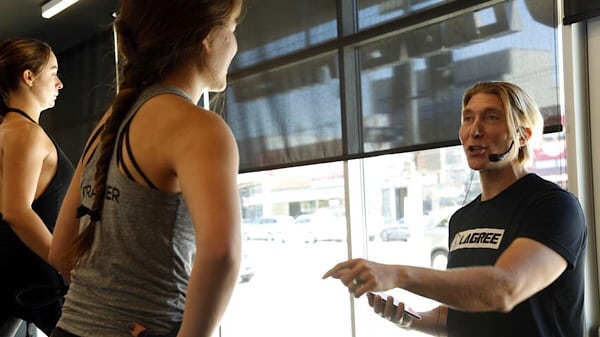 Read Time:
4 Minute, 13 Second
Tell me a little bit about yourself and your career.
Well, I grew up as a very shy and introverted kid. I got into fitness at the age of 13 because I was getting really fat from playing video games all day. Once I got in the habit of working out, I became obsessed with it. I never considered a career in fitness until I moved to Los Angeles. I just didn't think a successful career could be had in this industry.
How did you get involved in fitness?
At 13, I fell in love with my girlfriend and I wanted to look good for her. I started to lift weights and then the results hooked me. I became religious about training.
What is the most rewarding part about your job?
I do what I love, and I love what I do. The hours are very long, but it's effortless in a way. The most rewarding part of my job is helping people transform their lives – not just their physical appearance, but their lifestyle. When you change your appearance, it will affect your mental health — your self-esteem increases, and you begin to make better lifestyle choices for yourself. This can affect your work-life balance, your home life, your social life, all of the choices that go into feeding a healthy lifestyle, which make you feel good and keeps all facets of your life in check so you can continue to evolve and improve through fitness. It's very rewarding to act as that influence.
Tell me a bit about your documentary.
I love technology and I wanted to explore how technology would affect us as humans and also affect the field of fitness. What I discovered is that in the future, more people will be working out not for the physical results/benefits; but rather for emotional, intellectual, psychological, and spiritual purposes. The benefit of fitness is the process; not the results. How you get fit will become as important as being "fit."
What made you decide to do it now?
I actually completed the documentary 3 years ago. I have so many projects going on constantly but given the heightened state of celebrities and social media influencers altering and promoting their bodies, I felt like this was the right time to release it and make a statement. Right now, aspirational body proportions are unnatural, everyone is promoting the next big diet or quick-fix workout app or body contouring treatment; everyone is focusing on just the physical aspect of "fitness" or fitness-related results, and that's wrong. Fitness should be all encompassing, it should impact and improve your mental, physical, psychological, emotional, intellectual and spiritual states. That's how fitness should be. And I wanted to show that through technology enhanced fitness programs and machinery we can achieve all of those things simultaneously and bring the focus of fitness beyond physical appearance.
What do you hope people like about it?
I hope that I can introduce the idea that people should not just focus on the physical aspect of fitness, but also the mental and emotional aspect. You are not just working out to get a tighter booty; you are also working out because of how it makes you feel. I also hope that the documentary motivates more people to move/workout and also try new types of workouts which will benefit the brain as well.
What was the most memorable part about filming?
Most definitely interviewing Elaine Lalanne – aka thee First Lady of Physical Fitness. She is like a time machine. She was talking about when her husband Jack LaLanne opened his first gym (I mean THE first gym in the U.S.) back in the 1930's. Elaine has lived through the birth of the fitness phenomenon. It was great to hear all her stories.
What was the biggest challenge?
The biggest challenge for me was to stop interviewing people. We conducted over 100 interviews with many different people in different fields (neuroscience, genealogy, wearable tech, implantable tech, fitness gurus, movement experts etc.). I have learned so much, this was like earning a PhD.
What's next for you?
I want to do a follow up on the subject. We have done more research and experiments since then. I have more information regarding brain waves and muscle memory that I would like to share, as well as on fitness.
Tell me a fun fact about yourself.
I love to dive with sharks. I dive regularly. As a matter of fact, I am leaving next week to dive with crocs in Mexico.
What are you watching on TV these days?
I don't watch much TV, but when I do, I like sci-fi (altered Carbon); and I love zombie flicks.
Anything else you want to share?
I hope people enjoy the doc and that they comment and give me some feedback about other topics they would like to know more about.
CREDIT: Sebastien Lagree, Director/Executive Producer/host of The Future of Fitness documentary
Available on: Amazon Prime Video