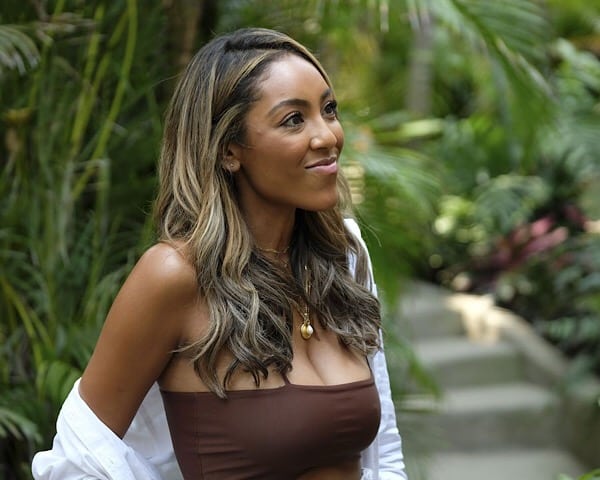 Read Time:
2 Minute, 24 Second
Tonight's episode of ABC's Bachelor in Paradise continues from last week's fight between Jordan and Christian. If you recall, Christian decided to make a cute date time with Nicole, who went out with both guys, as well as Clay. Jordan was trying to defend Clay, who was interrupted by Christian earlier that night. 
As far as fights go, it seemed pretty lame. Most people think Jordan is at fault for all this and is actions were uncalled for. 
Both guys are kicked out of Paradise.
We continue with the cocktail party and mingling and then finally get to the rose ceremony. The only noteworthy moments of the cocktail party: Nicole making out with Clay, which means she got over Christian and Jordan quickly and Hannah being torn between Blake and Dylan. 
Cam also causes a lot of drama with Onyeka by saying Mike was talking about her and saying she is cool but not his type. She wishes someone would make her feel special and considers going home. 
There is also a mariachi band involved and I have no clue what to do with this information. 
Onyeka decides to leave because she hasn't made a connection. I get how she feels…..being 'the friend' and not the 'girlfriend.'
Cam says he would have given her a rose had the roles been reversed. Except, he said it to the camera and not her. 
Roses: 
Demi to Derek
Nicole to Clay
Katie to Chris
Caelynn to Dean
Tayshia to John Paul Jones
Sydney to Mike
Hannah to Dylan
Kristina to Blake 
Cam, Wills and Kevin go home, all of them upset over the fact that Blake got a rose. 
The next day Caitlin from Colton's season comes, whomever she may be. Tayshia is happy to have a friend here. She has a date card and begins chatting up the guys. Dean is honest about Caelynn, so she decides to go out with Blake. He is apparently the only Stagecoach girl he didn't do anything with. 
Anyway their date has some kind of weird sexual exercise thing that he hopes helps turn things around. 
He comes clean about the other girls and then makes out with her.
Dylan and Hannah have a date with dinner, talking, kissing and…..Aztec warriors? 
Tayshia and JPJ continue to bond….and he throws up?
Demi is upset because she cares about Derek, but is thinking of the woman back home. She tells him about it and while he takes it well, she is still sad. He is a bit sad as well.
Everyone jokes that is seems like the drama is over when Hannah B arrives. She talks to Demi about her experience and her confusion. It's so sweet and I love their friendship. 
It looks like Demi is leaving…..or to at least talk to Chris Harrison. Stay tuned.