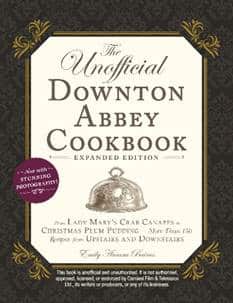 0
0
0
0
Are you looking forward to the Downton Abbey movie set to premiere in September? I know I am! I also found the perfect way to celebrate: The Unofficial Downton Abbey Cookbook, Expanded Edition. The book was just released and promises to be a huge hit for fans to the cult favorite series.
About the book:
Taking inspiration from both the show and the times — and featuring dozens of photos as well as historical insights — the cookbook will delight any Downton Abbey fan as well as home cooks with a taste for the way people (both upstairs and downstairs) ate in a bygone era. From cucumber sandwiches and berry scones for afternoon tea to dinner party fare of smoked salmon mousse and stuffed leg of lamb with almond fig sauce and hearty staff lunches featuring Yorkshire pudding and bubble and squeak, readers will become real life Mrs. Patmores as they turn out food fit for the Crawleys!
Sammi has been a journalist for over a decade, specializing in entertainment, lifestyle, sports and celebrity news. She is the owner of TVGrapevine and Football in High Heels and the Host of Grapevine in High Heels With Sammi.