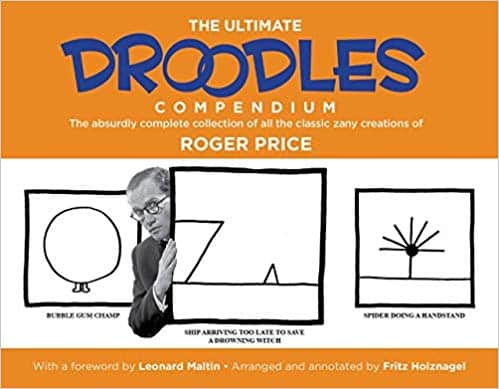 Read Time:
2 Minute, 55 Second
Looking for  something to do while you travel this summer? Need something to keep the kids occupied? The Ultimate Droodles Compendium: TheAbsurdly Complete Collection of All the Classic Zany Creations of Roger Price has the answer. This amazing book, which was released earlier this year, shows the fun work of Roger Price. It is something so fun and captivating that it will keep people entertained for hours.
Check out more information below and leave a  comment for a chance  to win a copy!
Before he delighted fans with Mad Libs, comedian Roger Price invented Droodles — absurdly funny drawings that joined hula hoops and UFOs as one of the biggest fads of the 1950s. At the peak of their popularity, Droodles had their own TV show, daily newspaper column, bestselling books, and even cocktail napkins. But Droodles — and the remarkable legacy of Roger Price — have been forgotten by all but a few diehard fans.
Until now.
On March 6th, 2019 — what would have been Roger Price's 101st birthday — Tallfellow Press released The Ultimate Droodles Compendium: TheAbsurdly Complete Collection of All the Classic Zany Creations of Roger Price, arranged and annotated by Emmy-winning writer Fritz Holznagel and featuring a foreword by America's best-known film historian, critic, and author, Leonard Maltin.
Featuring over 350 hilarious Droodles — from the most popular to the wonderfully obscure and even "Kinda Croodles" (that are more than a wee bit insensitive from our modern viewpoint) — The Ultimate Droodles Compendium is the first and only full retrospective of Price and his creations.
In The Ultimate Droodles Compendium, longtime fans and newbies alike will be captivated by this forgotten genius of American comedy. In a section titled "A Brief History of Roger Price and Droodles," Holznagel dives deep to reveal Price's West Virginia coal country roots, radio years in Los Angeles and Chicago, four years writing gags for comedian Bob Hope during World War II, creative partnership with Leonard Stern that led to Mad Libs, and wild, wit-fueled journey to selling more copies than Ian "James Bond" Fleming. Price co-founded a publishing company (Price Stern Sloan) that would be acquired by Penguin Putnam, lived in a penthouse on Central Park West, married (and divorced) four women from three continents, and blazed a twisty trail for generations of comedians to come.
"Cartoons and graphic novels are now high art, but it wasn't always that way," shares Tallfellow Press publisher and president Claudia Sloan – who called Price "Uncle Roger." "Droodles were pioneering in their use of drawings and illustration as timelessly funny 'smart' humor." Roger's impact is confirmed in interviews with figures from comedy legend Carl Reiner to Mark Frauenfelder and Carla Sinclair, co-founders of the hit website Boing Boing.
"Hilarious as they are, Droodles have actually been used by scientists, psychologists, and even National Geographic as research and educational tools," Sloan continues. "Because they're both simple and complex, they've been used to foster imagination and humor in kids and to prompt memory and cognitive skills in adults. The delight of Droodles is that there's something for everyone." (Or as Roger's Mad Libs partner Leonard Stern put it: "The bestthing about Droodles is that anyone can do them, and the worst thing is that everyone does.")
This is a one-of-a-kind collection of humor and history. Millennials and Baby Boomers alike are in for a treat with the release of The Ultimate DroodlesCompendium, which is available in paperback wherever books are sold as of Spring 2019.