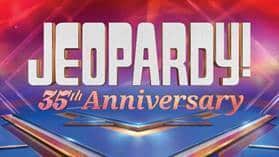 0
0
0
0
CULVER CITY, CALIF. (May 24, 2019) – James Holzhauer, a 34-year-old professional sports gambler from Las Vegas, Nev., reached another JEOPARDY! milestone today when he won his 27th game in a row and became the second person in the show's history to earn more than $2 million in regular-season (non-tournament) play. His $74,400 victory brings his overall total to $2,065,535.
The only other player to earn more than $2 million is Ken Jennings, who earned $2,520,700 over the course of his historic 74-game winning streak.
Holzhauer will face two new challengers on Monday, May 27. Check local listings for show times and stations and visit Jeopardy.com for more information.
Sammi has been a journalist for over a decade, specializing in entertainment, lifestyle, sports and celebrity news. She is the owner of TVGrapevine and Football in High Heels and the Host of Grapevine in High Heels With Sammi.