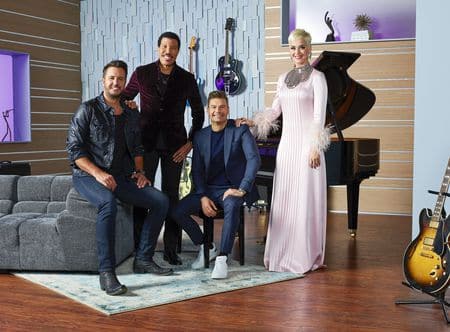 0
0
Here are the top 14 of ABC's American Idol. Also, best wishes to Ryan Seacrest who called in sick for the first time in the show's history. Congratulations to Bobby Bones on taking over hosting duties for the night.
Last night's top 7: Laci Kaye Booth, Ashley Hess, Walker Burroughs, Madison Vandenburg, Uche, Riley Thompson and Laine Hardy.
Tonight's Top 7: Evelyn Cormier, Dimitrius Graham, Jeremiah Lloyd Haron, Alyssa Raghu, Wade Cota, Eddie Island and Alejandro Aranda.
What are your thoughts? Let us know in the comments!
Sammi has been a journalist for over a decade, specializing in entertainment, lifestyle, sports and celebrity news. She is the owner of TVGrapevine and Football in High Heels and the Host of Grapevine in High Heels With Sammi.