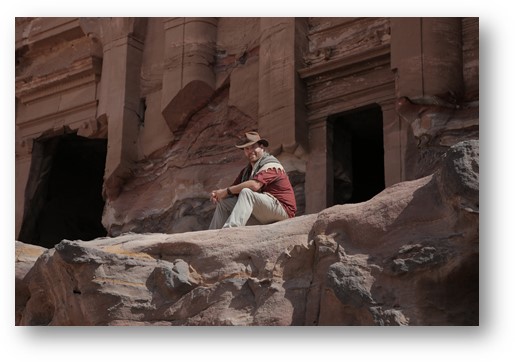 Read Time:
3 Minute, 48 Second
(Los Angeles) – Ardent explorer and adventurer, Josh Gates has traveled to the ends of the earth investigating the greatest legends in history. Now, he's back with his most daring adventures yet. From following in the footsteps of the real Indiana Jones to learn the truth behind the fabled Crystal Skull of Doom, to diving the Great Lakes in search of the Holy Grail of lost American shipwrecks, The Griffon, Josh takes viewers on exhilarating expeditions around the world. Armed with his quick wit, and trademark fearlessness along with cutting-edge technology, Gates is tackling new mysteries, new destinations, and making new discoveries in a pulse-pounding, new season of EXPEDITION UNKNOWN, premiering Wednesday, April 10th at 9PM ET/PT on Discovery Channel. In addition, Discovery will go live from Egypt with 'EXPEDITION UNKNOWN: EGYPT LIVE,' a special 2-hour event airing "Live to Both Coasts" on Sunday, April 7, at 9PM ET / 6PM PT on Discovery and simulcasting on Travel Channel and Science Channel and will take viewers through a network of underground tombs and open a sealed, ancient sarcophagus for the very first time.
Josh's enthusiasm for off-the-grid adventure is leading him to explore even more historic mysteries and archaeological puzzles. This season, Josh begins his journey in Germany, in search of an elusive Nazi fortune – hidden with a code allegedly created by Hitler's private secretary and embedded into a piece of sheet music. After World War II, the looted treasure vanished without a trace…until now.
Josh will dive into the frigid waters of South America's Lake Titicaca on the hunt for the Atlantis of the Andes. And in France, he'll scour the countryside to crack a devious puzzle that leads to a golden statue.   Plus, Josh embarks on a quest for some of the most important relics in history…The Dead Sea Scrolls. This season of EXPEDITION UNKNOWN is filled with heart-pounding adventures that will leave viewers gripping the edge of their seats.
Followers of @Discovery on Instagram will be given a behind the scenes look during the live broadcast with additional insights and exciting moments led by our team of expert archeologists and historians. Viewers are also invited to join conversation on Twitter using hashtag #ExpeditionUnknown for a chance to be featured on-air and watch past seasons of EXPEDITION UNKNOWN on Discovery GO. Host Josh Gates can be found on Facebook: @joshgatesofficial, Twitter: @joshuagates, and Instagram: @gatesygram.
EXPEDITION UNKNOWN is produced for Discovery Channel by Ping Pong Productions. For Ping Pong Productions, executive producers are Brad Kuhlman, Casey Brumels and Josh Gates, and Brea Tisdale is co-executive producer. For Discovery Channel, executive producers are Daniel A. Schwartz, Michael Gara and Bill Howard and coordinating producer is Cameron Doyle.
About Discovery Channel:
Discovery Channel is dedicated to creating the highest quality non-fiction content that informs and entertains its consumers about the world in all its wonder, diversity and amazement. The network, which is distributed to 88.3 million U.S. homes, can be seen in 224 countries and territories, offering a signature mix of compelling, high-end production values and vivid cinematography across genres including, science and technology, exploration, adventure, history and in-depth, behind-the-scenes glimpses at the people, places and organizations that shape and share our world. For more information, please visit www.discovery.com.
About Discovery:
Discovery, Inc. (Nasdaq: DISCA, DISCB, DISCK) is a global leader in real life entertainment, serving a passionate audience of superfans around the world with content that inspires, informs and entertains. Discovery delivers over 8,000 hours of original programming each year and has category leadership across deeply loved content genres around the world. Available in 220 countries and territories and nearly 50 languages, Discovery is a platform innovator, reaching viewers on all screens, including TV Everywhere products such as the GO portfolio of apps; direct-to-consumer streaming services such as Eurosport Player and MotorTrend OnDemand; digital-first and social content from Group Nine Media and a strategic alliance with PGA TOUR to create the international home of golf. Discovery's portfolio of premium brands includes Discovery Channel, HGTV, Food Network, TLC, Investigation Discovery, Travel Channel, MotorTrend, Animal Planet, and Science Channel, as well as OWN: Oprah Winfrey Network in the U.S., Discovery Kids in Latin America, and Eurosport, the leading provider of locally relevant, premium sports and Home of the Olympic Games across Europe. For more information, please visit https://corporate.discovery.com/ and follow @DiscoveryIncTV across social platforms.