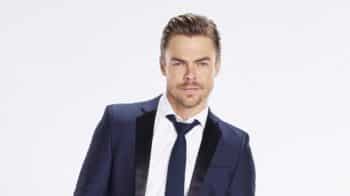 Read Time:
4 Minute, 13 Second
Derek Hough danced his way into the heart of America when he joined the cast of Dancing With The Stars during the show's fifth season. He quickly became a fan favorite and holds the record for most mirror ball wins—SIX in all. He went on to go on tour with his sister Julianne, make music (most notably with best friend Mark Ballas in the Ballas Hough Band) and is now a judge on the show World of Dance with Jennifer Lopez.
Now Derek is about to launch his very first solo tour called Derek Hough LIVE! This will be his first solo tour and hitting many cities across the United States. He recently took a break from his busy schedule to do an exclusive interview with TVGrapevine. Below are some of the highlights from our chat.
1. Derek admitted that while he is very excited to do his first solo tour, he is also a bit nervous. He revealed that the tour will have a live band, live dancers and everything in between. The show will have a very different energy than shows he did in the past and will be a mix of classic and modern music. As for the dancing, Derek promises that we will see an eclectic mix of Broadway, hip hop, ballroom and other forms of dance.
2. He gets his inspiration from many sources. Naturally, many of his ideas come from music, but he also loves to draw inspiration from colors, lights and even props he sees in various places. This will come to play a lot in his tour, but there is one specific memory he has about creating a dance from a random prop.
In 2015, when he was on DWTS with Bindi Irwin, he took a break from rehearsals to go shopping for lights at a hardware store. While he was there, he saw a light with a rope, which helped inspire one of the most iconic dances in the show's history. Other things that inspire him include people's stories and moods.
3. The biggest challenge for Derek doing the tour is going to be pacing himself. He admits there is a lot he wants to do, but he needs to be smart in how he arranges things. He needs to work on transitioning between dances so he has a chance to breathe, while still keeping the show as high energy as possible. He admits in order to do this, he sometimes has to recreate certain routines and rearrange music, but it is well worth the effort.
4.He loves being a judge on World of Dance! He initially heard about the show and was interested in participating, so he was thrilled when he was approached to be a judge. He loves how the show brings dance forward in such a positive, special way and loves seeing the dancers bring their all. He has since bonded with several former contestants and is even bringing one of them on tour with him.
5. As people know, Derek got his start being judged on DWTS and now is a judge on World of Dance. He says there is actually very little difference between the two. For him, he biggest difference is the empathy he has for those he is judging because he was once in their shoes. He also admitted to getting excited when judging and jumping out of his seat while watching the acts.
6. While Derek is very busy with the tour and World of Dance, he is still working on other projects. One of the biggest is recreating a special, iconic piece that includes dance, animation and other special effects. You will have to keep checking back to see what that means and which piece he is recreating, for we do not want to ruin the surprise! He said doing this piece was a huge honor and he cannot wait to see how it pans out.
7. Fans also know that Derek is also a talented musician. He used to sing with his sister Julianne and best friend Mark Ballas in a band called 2B1G and went on to form the Ballas Hough Band with Mark. While he has no plans to reunite with them, music wise, he is open to doing it in the future.
8. Fans would be surprised to know that Derek recently became a fan of cats. He and his girlfriend recently found a stray cat that they ended up adopting. He admits he was never a fan of cats before, but this little guy won his heart!
9. He loves Game of Thrones and is currently gearing up for the final season with his girlfriend. He is excited to see what happens and how the show will end.
10. He is grateful for all his fans and their love and support throughout the years. He hopes to see them during his tour and says they can buy tickets at www.derekhough.com
Thank you Derek, and I look forward to seeing you on the tour.