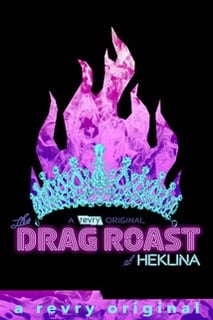 Read Time:
2 Minute, 11 Second
Heklina is famous for her drag queen acts and incredible personality. She recently had her very own special on Revry called The Drag Roast of Heklina. The roast, which premiered earlier this month, brought together some of the very best in the LGBTQ community, including Alaska Thunderfuck, Jackie Beat, Jinkx Monsoon, Bob the Drag Queen, Sister Roma, Julie Brown, and Peaches Christ. 
In a recent interview with TVGrapevine, Heklina shared some moments from the special, as well as some other fun moments that are happening in her life. Below are some of the highlights from our chat.
1. Heklina gushed about the special and how glad she was for the opportunity to film it. She admits that the special is politically incorrect, but also showed her self depicting sense of humor. She wanted  to change how people looked at the objectivity of humor and thinks she succeeded with this special. 
2. As much as Heklina loved doing the special, she admits that there were also some challenges along the way. For her, the biggest challenge was getting people to do the special. She had several people in mind, but there were some conflicts in people's schedules However, they were able to work it out and come up with a great panel of people.
Heklina also admitted that she had to have thick skin when it came to being roasted and remember that it all came from love.
3. Now that this special is airing, Heklina is working hard on her next big project-a Golden Girls stage production in Fort Lauderdale. She is taking on the role of Dorothy Zbornak, who was originally played by the late Bea Arthur. She loves Dorothy's death stare and dry sense of humor and can't wait to bring it to the stage. She will also be doing more drag shows in San Francisco. 
4. Despite being a huge fan of the show, Heklina didn't see it until she was older and caught it in reruns. She says the show wasn't airing where she was growing up and didn't even know about it until she moved to the United States. However, she was a huge Bea Arthur fan from when she was on Maude and considers that to be the 'best show ever.'
5. Fans would be surprised to know that Heklina actually grew up in Iceland and that she was named after the country's famous volcano. She is proud of where she came from and plans to go back to visit during their Pride Week.
Keep checking back for more news on Heklina.