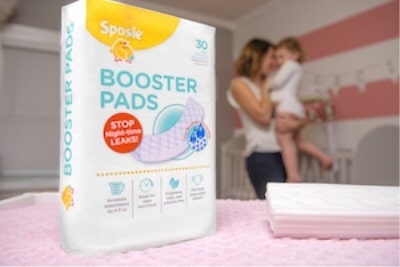 Read Time:
1 Minute, 5 Second
I have a lot of mommy and daddy friends who all have a similar complaint when it comes to their babies: leaky, dirty diapers! It seems to be worse in the middle of the night or during nap time when they leak all over the crib, blankets and onesie, making a big, gross mess.
It turns out there is a solution! Sposie! This Amazon favorite product is a wonderfully absorbent pad that can prevent leakage and prevent diaper rashes, thanks to it locking in wetness. It is perfect for traveling, bedtime and nap time and makes clean up that much easier.
If you are looking for a great baby shower gift or are a parent in need of a solution for those yucky diapers, Sposie is your product!
Sposie Highlights:
• Prevents leakage by increasing diaper absorbing capacity
• Can be used during naptime, bedtime, travel, and more
• Locks in wetness to keep skin dryer and prevent diaper rashes
• Dermatologist and Pediatrician tested
• Crafted with hypoallergenic, cruelty-free sourced materials
• 100% free from chemicals including fragrances, latex, chlorine, and phthalates
• Made in the USA
• Designed to fit most diapers (pad dimensions: 12″ x 3″)
Double your diaper absorbency, double your peace of mind for only $10 per pack.
Sposie is available online at Target, Walmart, and Amazon and retailers nationwide.