Up and Coming Artist Angelo David Talks to TVGrapevine
Read Time:
2 Minute, 45 Second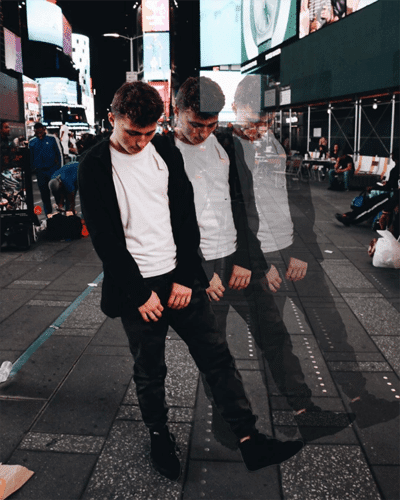 Tell me a bit about how your career began.
I used to play around with a toy keyboard when I was younger. Although it started with me banging on random keys and writing lyrics about my childhood, my songwriting developed as I continued to make music. One summer, a few years after experimenting with songwriting and taking some piano lessons, I went into a recording studio and recorded an EP. In 2013, I had a CD release party and Marc Delcore, Britney Spears' music director, saw me perform. He & I worked on songs following the release of my first EP, and I've looked up to him as he's shown me the ropes.
Who inspires you as an artist?
Lady Gaga has inspired me throughout my entire life. Beneath the costumes and behind the big shows, she is a true singer/songwriter. I remember watching an acoustic performance of "paparazzi," and I was in awe of how that song could be played as such a beautiful ballad. This opened my eyes to a part of the songwriting process; how something can start at the piano and evolve into a pop song.
Tell me about working on this single and what inspired it.
"This Place" depicts our society both on a small scale and across the country. The song is is dark and eerie, different my other songs that I released this year. I took a big risk in the composition of the song, and spent time processing everything I had observed and created a vivid scene for the listener. People may find themselves traveling to "this place," only to realize that they are already living within this world.
Who are some people you want to collaborate with?
I would love to go back in time and make a song with Bowie. He's such a fearless artist who stayed true to himself and that's admirable for a guy like myself. Currently, one of my favorite artists is Halsey, who has done some concept albums and I would love to write with her. And of course, Lady Gaga and Taylor Swift are both incredible women who would be so fun to collaborate with.
What's next for you?
There will be both audio and visual content to complement each other next year. My next song is called "The Inside," which is coming out very soon. But, for now, I'll let people be in "This Place."
Tell me a surprising, fun fact about yourself.
I eat so much cereal. Like when I was little my parents told me I would turn into a Rice Crispy if I kept eating it, but that hasn't stopped me.
What are you watching on TV these days?
I've been in need of a new show to watch. But, to pass the time, I've been addicted to Gossip Girl. I know I'm about a decade late, though.
Anything else you want to tell America?
Stop being so split all the time! Find someone that's different from you and talk to them. It doesn't have to be political, just a simple exchange of words. I think the world could be so much better if we were open to people who are different than ourselves