THE GIRL HE MET ONLINE TALKING TO MARY MARGARET HUMES
Details

Written by Sammi-T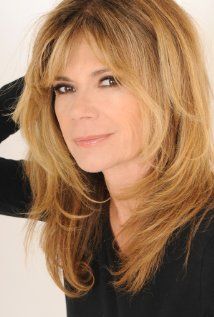 THE GIRL HE MET ONLINE
TALKING TO MARY MARGARET HUMES
Mary Margaret Humes is best known for her role as Gail Leery on Dawson's Creek. She was also the supportive, loving mom on the Disney Movie Motocrossed. Now she is back and better than ever in the movie The Girl He Met Online, which will premiere on LMN tonight. She recently talked to
TVGrapevine in an exclusive interview to promote the movie. Below are some of the highlights of our
chat.
1. She has been in seventy-five different TV roles and has been in the business for twenty-five years. She started working in the business when she moved to Florida. After doing some commercial work, she decided to move to LA to pursue her dream full time. Before long, she was working with Mel Brooks in History Of The World Part One, a role that put her on the map.
2. To prepare for her role as Agatha Casey in The Girl He Met Online she did a lot of research on bipolar disorder and tried different approaches during filming. However, she says it wasn't until she met Yvonne that everything fell into place. She says that once they started working together it became magical because they were able to form a connection. They even had a special system for some of the fighting scenes in order to make it look realistic without either of them getting hurt.
3. She would love to have a Dawson's Creek reunion, but says right now there are no plans to make it happen. If it were to ever get a green light, she says she would like to see a next generation type of show (think Degrassi:The Next Generation or Girl Meets World) or something that would allow the characters who have died come back as ghosts.
4. Her future plans include filming an independent film in Italy and auditioning for pilot season. She says that her dream role would involve dancing, music and happiness. She wants her role to being joy into people's lives without any heavy duty drama, saying that there is already a lot of drama on TV and it is time for more positivity.
5. She is a huge fan of American Idol. To her, it is a feel good show where we get to see people live out their dreams and develop their talent. She also is a fan of the judges, saying she likes Harry Connick Jr's ear for music, Keith Urban's personality and the way J.Lo holds her own with the men on the panel. She adds that she misses Steven Tyler because she enjoyed his comments and thinks he is hot!
Thank you to Mary Margaret and be sure to check your local listings for The Girl He Met Online showtimes.
Follow me on social media:
Facebook: Sammi-T
Twitter: TVG_Sammi
Instagram: TVG_Sammi