Hollywood Game Night This Week's Recap
Details

Written by Anissa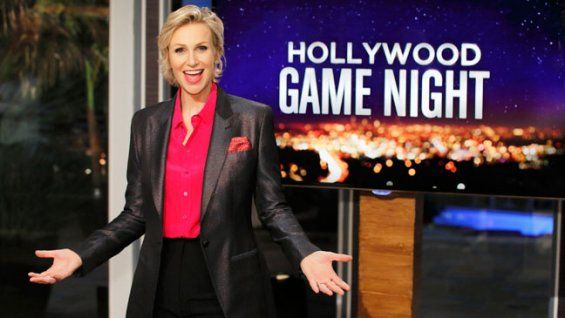 Hollywood Game Night
This Week's Recap

Thursday nights on NBC "get the ball rolling" and keep it rolling with their hit series Hollywood Game Night. Hosted by Jane Lynch, various celebrities are split into two teams that consist of three well known and well- loved celebrities along with an additional person who plays the role of team captain.
In this week's episode, Teams Coco and Michael go head to head to compete for the grand prize of $10,000. The object of the game is to get as many points as possible within the first three rounds of celebrity related games. The team with the most points then moves onto the bonus round where the team captain gets the chance to work with the celebrity of their choice to win the $10,000 for themselves and the celebrity of their choice gets to win a separate $10,000 prize as donation for charity. The first game that was played last night was both the funniest (and Most Bizarre) use of photo shop I have ever seen in my life-"Celebrity Fusion." In this game, a representative from each team is chosen to identify pictures of morphed celebrity pairs which share a common name. The team member who is able to identify the most pairs wins.
The first to go up are brave souls Coco and Michael and the first team to gain points is Team Coco when she guesses the first morphed pair correctly: Ricky Martin Lawrence. As the game continues, her fellow team mates (Sean Hayes, Maya Rudolph, and Jason Sudekis) help her take home round one with a total of 4 points leaving Team Michael in close 2nd place with a total of 2 points. Round Two gets a little more heated (and saucy!) when the stars embark on a game of "Timeline." During this round, Team Michael was put to the test to arrange a group of six photos of "Sexiest Man Alive" magazine covers in 90 seconds and in chronological order (Swoon!) Having as many opportunities as he could in those 90 seconds to arrange and rearrange, he was only allowed to rely on the help of his teammates (Fred Armisten, Amy Poehler, and Dax Shepard) to guide him to the right answer. Unfortunately, Team Michael was once again left in the dust and beaten by their opponents on Team Coco who conquered their challenge of arranging the evolution of Jennifer Aniston's Hairstyles successfully: Ending round two with Team Coco at 15 points and Team Michael with a measly 5. Onto the comical speed rounds three, four, and five the teams were put to the test when confronted with their challenges.
During their first challenge entitled "Take a HINT," each team was given a key term with the exception of one team member who was told to guess the term based on related terms given to them by their team members (i.e.-'Las Vegas' is the key term ; 'City' and 'Sin' are related terms) After all was said and done, the team was then able to move onto a round of CBI or "Candy Bar Investigation" where a representative from each team had to guess the name of a candy bar based on a picture of its insides. Topping off the night (but not quite yet ending it) the teams' humming abilities were then put to the test in a round of "How do you DOO?" where teammates had to guess the title of a song only after hearing a fellow teammate hum the melody in a chorus of 'Doo's.'
Even though the won some battles, team Michael lost the overall war ending the games with a well-fought-out 18 points. Holding 22 points strong, Coco and the celebrity of her choosing-Jason Sudekis- were able to participate in the bonus round for "The Celebrity Name Game." Relying only on clues given by their partner, each person had to guess the name of each celebrity based off of what their team mate disclosed about him or her. However, the amount of money given to them by the end was subtracted based on the amount they got right based on their guessing. Still holding strong (but not given the entire $10,000) Coco Jackson was given a decent amount of $8,000 and Jason Sudekis was able to donate that separate $8,000-Leaving viewers with yet another entertaining, intoxicating, and exuberating episode of Hollywood Game Night.