UNDERCOVER BOSS: RECAP FOR 11/22/13
Details

Written by Timman
UNDERCOVER BOSS
RECAP FOR 11/22/13
Tonight on Undercover Boss we reconvene with some previous bosses  who have been busted, and see what they have done since the show. 6 bosses meet to discuss how they were busted and will have the tables turned on them and their waiter will be the boss of the Palm restaurant undercover. In NYC The boss of Retro fitness is bringing previous busted people to the dinner and he is going to see if he is actually good undercover. The Bosses include Kat Cole from Cinnabon, Paul D'amico from Moe's, Andy Wieterhorn, Shelden Yellen, Anthony Wedo from Buffets Inc, and Jean from Donato's as featured earlier this season. The Waiter comes in, Kat says the waiter is a little wierd. They say how he is a trainwreck and cleaned up water very sanitarely. He ends up revealing himself as the CEO of Retro Fitness.
KRISTIN'S CHRISTMAS PAST: JUDD NELSON INTERVIEWED
Details

Written by Sammi-T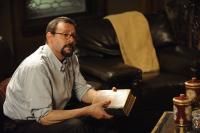 KRISTIN'S CHRISTMAS PAST
JUDD NELSON INTERVIEWED

Judd Nelson is a legend. We fell in love with him in The Breakfast Club and followed his career ever since. Someone mentions the eighties and we picture his handsome face and charismatic attitude. Now, he is back and better than ever in Kristin's Christmas Past, which premieres tomorrow night on Lifetime. Judd Nelson plays Glenn, the father of Kristin. (played by Roswell's Shiri Appleby)

I recently had the honor to speak with Judd Nelson in an exclusive interview to promote the movie. To say this was a standout career moment is an understatement. Mr. Judd Nelson is a man of class, sweetness and a true character.