The Hero: A Chat With Patty
Details

Written by Sammi-T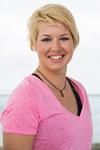 The Hero
A Chat With Patty
The Hero
is one of the most addicting competition shows on TNT. Hosted by The Rock, the show has everyday people face extraordinary challenges to see who will come out on top and win the ultimate prize.
I recently had the chance to talk to contestant Patty. Below are some of the highlights of our chat.
Patty is a wife and mom that works hard to make sure her family has the very best. She currently holds three jobs: real estate agent, holiday ringer at Macy's and at a hair salon. She decided to do the show when, after a particularly difficult day, her son left an application for the show up on the computer. She took a look at it and decided to fill it out. the next thing she knew, she had received a call and before she knew it she was on the show.
During her time on the show, she says The Rock completely changed her life. To her, he was not only a celebrity, but also someone who she now considers to be a genuine hero.  He helped her become a better person and find her own inner hero. Before the show, she had forgotten that she can still dream and reach for the stars.  Now she has several goals, including running in the Boston Marathon next year. She thanks the show for reminding her of this and hopes to continue to work hard and make it happen!
As for who she considers to be a hero,  she says anyone who is willing to help others, such as police, military, firefighters and other service people fit the bill. She hopes that the show helps people find their inner hero and look for the good in people again.
Thank you to Patty and TNT for the interview and tune into The Hero!