Juan Pablo di Pace: Jack of All Trades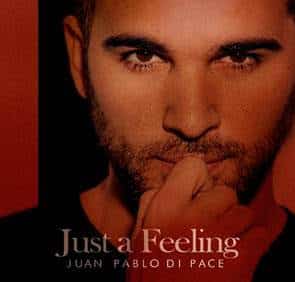 Juan Pablo di Pace dominated our TVs for two months during season 27 of Dancing With The Stars. He made history with the most shocking elimination since the show's first season. Now he is thanking the fans who supported him with a brand new song called 'Just A Feeling,' which can be found on iTunes. A corresponding video will be released in the coming days.
The song was written by Juan Pablo himself (with the help of Evan Blum and Daddy Supreme) and completed within the last week. He began production right after his elimination and even had time to make a video, which features his dancing partner Cheryl Burke.
The Argentinian-Italian hunk was so moved by the love and support he got from his fans during his DWTS run (and elimination) that he wanted to find a way to thank them. The song shares his feelings for all the fans that were there for him during this unforgettable journey. He calls it a love letter to them and cannot wait to hear and see their reactions.
As for his DWTS journey, Juan Pablo revealed that he loved every moment. He admitted that although he knew it was a competition, he didn't see it as one. Instead, he looked at each week as an opportunity to perform. For him, it made the experience that much more enjoyable. He also loved bonding with the cast, including DeMarcus Ware and John Schneider. He thinks he will be lifelong friends with them (as well as Cheryl) and hopes that they work together again in the future, maybe even on his hit Netflix series Fuller House, which returns December 14th.
So what can we expect to see this season? According to Juan Pablo, we will be seeing a lot with the surrogate storyline involving Stephanie Jimmy and Fernando's ex-wife Kimmy. (Spoiler alert: expect some amazing moments!) He also revealed  that the younger cast will be facing some very grown up issues as they enter high school and make new friends. He said it is similar to some of the things we have seen on Full House, but done in a more modern way. He added that there will be a big storyline with Fernando and Ramona that will touch our hearts.
Juan Pablo turns everything he touches into gold. However, for me, the biggest thing that impressed me was his huge heart, humbleness and sweet personality. He has so much love for those in his life that it reminds me that there are still good people in this world. He will continue to succeed, not only in his career, but also by changing the world with his heart and love.